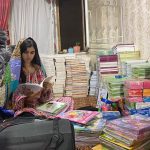 Maryam Amarkhil: Pioneering Education for Nomadic Girls
Maryam Amarkhil's story is a testament to perseverance and dedication in the face of adversity. Born in 1996 in the Peshawar Zakhilo camp, she became the first nomadic girl to pursue higher education beyond a master's degree.
Despite facing numerous challenges, Maryam remained steadfast in her pursuit of education, becoming an inspiration for countless other girls and women facing similar obstacles.
Maryam began her primary education at a school for Afghan refugees in the Zakhilo area of Peshawar. Since then, she has gone on to educate hundreds of other girls and women, empowering them to reach their full potential.
Today, Maryam Amarkhil is a prominent figure in the education sector, recognized for her pioneering efforts in advancing education for nomadic girls and promoting gender equality in Afghanistan.